Gustavsberg's porcelain museum
From summer 2018 Nationalmuseum has taken over the administration and activities.
The museum is now opened again after an extensive renovation.
Friends of Gustavsberg's porcelain museum
The purpose of our association is to work together for a positive development of the Museum.
The activities include lectures, exhibitions, excursions and shorter or longer trips to interesting destinations concerning ceramics and industrial history. For example, we have been in Finland, Denmark, Germany and England.
Annually, a sum is deposited into a museum fund that has been used to buy chairs, spotlights and new benches.
We started our activity in 1997 when the museum was threatened with closure. At that time the municipality of Värmdö took over the administration and activities, whilst the collections of the museum was assigned to Nationalmuseum, Sweden's premier museum of art and design.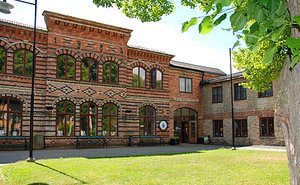 The Porcelain Museum in Gustavsberg is today housed in what is called Torkhuset - The Drying House. Torkhuset is one of the factory's most historically interesting buildings from 1876. In 1904, it was completed with an upper floor.
It was designed by the architect Magnus Isaeus, who former had been a designer in the factory. In addition to Torkhuset he has drawn several other buildings in Gustavsberg, as well as in the environments of Stockholm.
Torkhuset houses today, and since its inauguration in 1974, what was then called the Ceramic Center: the reception with shop, the Isaeus room on the lower floor used for temporary exhibitions, and on the upper floor exhibitions with the permanent collections plus office/administration.
Membership
Membership fees are 125 SEK per year, family 200 SEK, student 50 SEK.
Payable to our account in the bank NORDEA.
IBAN: SE98 9500 0099 6042 4434 4604
BIC (SWIFT-address): NDEASESS